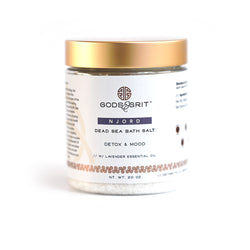 NJORD // Detox & Mood / Dead Sea Bath Salt
Best for: Relieving Dry skin, Stress Relief and Relaxation, Skin Nourishment

Helps With: Overall Skin Health, Dry Skin, Psoriasis, Dermatitis, Eczema, Relaxation & Mental Health, Reducing Skin Ailments

Njord was the god of the sea, the wind, and wealth. Vikings, the scourge of the north seas, were infamous for their raids of the ancient world. Their goal was to be as rich as Njord and rulers of the Northern sea. 
Soothe the mind, body, and spirit with this healing triple salt soaking blend. Restorative Mediterranean and Pacific Sea Salts have long been praised for their natural skin care benefits. Both of these detoxing bath salts are rich in restorative minerals, including Magnesium, Calcium, and Potassium to support overall skin health and vitality. 
Naturally cleansing and detoxifying, Mediterranean Dead Sea Salt works to smooth and soften skin while drawing out impurities. With its 21 minerals including zinc, calcium, and bromide, Dead Sea Salt replenishes key minerals as you bathe. It also has been shown to help with common skin ailments, including dry skin, acne, psoriasis, dermatitis, eczema and dandruff. Dead sea salt is even recommended by the National Psoriasis Foundation as an effective alternative treatment for the disorder. Both of these powerful Sea Salts also fight bacteria, detoxify pores for a healthy, clearer appearance and can help reduce pain and inflammation. 
Well known, Epsom Salt naturally eases tired and sore muscles for a complete and calming experience, helping to stabilize your mood and relieve stress, anxiety and depression.
Lavender Essential Oil restores aching muscles and provides ethereal relaxation and stress relief with its soothing scent. Njord is the perfect remedy to clear your mindset and start fresh each day… Enjoy better skin and a sense of wellbeing as you soak in these healing sea salts from around the world.
Njord's Ingredients: Mediterranean Dead Sea Salt, Pacific Sea Salt, Epsom Salt, Dendritic Salt, Lavender Essential Oil.
Scent: Lavender
Size: 20 oz / 4 oz (Sample) 
Directions For Use: Sprinkle several tablespoons into warm water for bath, hand or foot soak. Stir to dissolve.