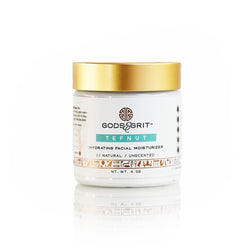 TEFNUT // Hydrating / Facial Moisturizer
Ideal For: Women & men facial skin hydration & nourishment
Helps With: Keeping your face moisturized, reducing skin dryness & rough skin, reducing inflammation, improving blood circulation, minimizing skin blemishes caused by dry skin.
Hydrate and nourish your face with this deeply penetrating facial moisturizer. Created to defy aging and provide all-day hydration, Tefnut keeps your skin health at its best. In Egyptian History, Tefnut was the goddess of moisture. She was said to form the lunar and solar eyes of Ra, granting her dominion over dryness and moisture. 
In Tefnut facial moisturizer, we have harvested oceanic ingredients as the basis of this super nourishing organic facial cream. Phytochemicals and over 90 Ocean Minerals combine with Hyaluronic Acid, Shea Butter, Organic Jojoba Oil, and Sea Water Extract to provide exquisite hydration and nourishment.
Enriched with Irish Moss and Spirulina, Tefnut provides longer-lasting skin health and all-day hydration. Rich in antioxidants, Dandelion extract provides anti-aging and anti-inflammatory properties, lessening the chance for flare-ups. Organic Gotu Kola extract is most known for its ability to improve blood circulation and heal scars and blemishes while fighting off free radical damage with its potent source of phytonutrients. Organic Green Tea extract's potent healing abilities help diminish signs of aging, reduces irritation and discoloration. Antioxidant-rich organic aloe supports the production and release of facial collagen, a key component of facial skin health. 
Tefnut is the facial moisturizer that keeps on giving, providing the key elements for glowing, nourished skin. Its decadent texture will make it a primary necessity for your skincare routine as you see its profound effects. Let Tefnut's ingredients work overtime as they care for your face from dawn to dusk. 


Tefnut's Key Ingredients:
Butters: Shea Butter
Oils: Organic Sunflower Oil, Organic Jojoba Oil
Others: Organic Aloe, Hyaluronic Acid, Sea Water Extract, Organic Green Tea, Organic Gotu Kola, Dandelion Extract, Vitamin B5, Vitamin E, Irish Moss, Spirulina Extract
Scent: Natural/Unscented
Size: 4 oz 
Directions For Use: After cleansing and toning, apply cream with a light circular motion to face, neck and décolleté.
Customer Reviews
02/21/2022
Taishia

United States
I recommend this product
Best Moisturizer
My skin is very dry in the winter, since using this moisturizer I haven't had any flaking skin.
01/20/2022
Michael P.

United States
I recommend this product
Amazing facial moisturizer!
I am a skincare snob. Tefnut is not greasy and absorbs into my skin right away. My face is hydrated and moisturized and feels great@
02/12/2021
Erica C.

United States
Amazing moisturizer
My face is softer than ever. great product!
12/30/2020
KELLY B.

United States
I recommend this product
So soothing
I really love this product. It soothes and moisturized so well. I am sure that when I run out I will be purchasing more. Thank you. A great product and a great company.
12/12/2020
Maxine S.

United States
I recommend this product
What a buy!
I saw this on FB and decided to try it. I can not believe how good this is and the value you get. The bottle is huge and I love the gold lids. Tefnut has been working wonders for my face. Softer, more hydrated, and healthier. I can't wait to try the other products from this company.